Pinhole® Surgical Technique (PST)
Pinhole Surgical Technique in Scottsdale, AZ
What is the Pinhole Surgical Technique?
The pinhole gum surgery technique is a relatively new procedure that treats gum recession as an alternative to traditional soft tissue grafting. It is minimally invasive where the periodontist creates a tiny pinhole in the gum tissue and places a stretching device to expand the gum. Once the gum tissue is stretched sufficiently to cover the exposed tooth area, small collagen strips are placed into the opening to hold the stretched gum in place. The collagen strips stimulate the growth of new gum tissue, creating brand-new tissue to cover the exposed area.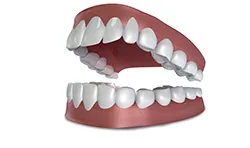 The pinhole technique can be used simultaneously on multiple teeth, treating the whole mouth at once. Correcting all the affected teeth in one sitting is efficient and cost-effective. Also, the technique minimizes the pain and reduces healing time.
So, if you are suffering from painful, sensitive teeth, visit Dr. Jason Zuch at Zuch Periodontics and Dental Implants. He will gently examine, diagnose, and treat your mouth to end your suffering.
The benefits of this Pinhole® Surgical Technique™ are:
1.) Scalpel-free
2.) Suture-free
3.) Conventional graft free (does not use connective tissue from the roof of the mouth)
It is quick, easy, and instantly pleasing, and is an alternative treatment to traditional grafting methods. Dr. Jason Zuch is one of the few periodontists that is certified to perform this procedure.
Conventional Gum Grafting vs. Chao Pinhole Surgical Technique
For more information on the Pinhole Surgical Technique, contact your Scottsdale AZ periodontist, Dr. Jason Zuch, of Zuch Periodontics & Dental Implants today at (602) 889-8666 to learn more!